Iowa High School Boys Basketball
Producing 100+ Years of Standout Iowa Athletes
Iowa has been among the national leaders in boys' basketball since its first state tournament in 1912. Viewed for years as the IHSAA's "gold standard" event, Iowa high school hoops has produced countless college and professional standouts. The state tournament consists of eight teams from each of the four classifications who advance to Wells Fargo Arena in downtown Des Moines.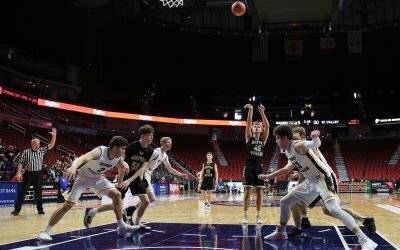 District and substate assignments for Classes 2A and 1A are now available for the 2021 basketball...
IOWA HIGH SCHOOL BASKETBALL STATE TOURNAMENT CENTRAL
For all things postseason and tournament, refer to the IHSAA Basketball Tournament Central.
View StateWide Basketball Stats at Your Fingertips
IMPORTANT UPCOMING EVENTS
For school-specific events, please contact your school's athletic director or reference your conference's website. Officials may log in to the Iowa High School Athletic Association App.

BASKETBALL Administrator, Fan & Athlete Materials
View More & Order Official Basketball Photos
Recent Basketball HISTORY
View upcoming ihsaa events