Iowa High School Boys Basketball
Producing 100+ Years of Standout Iowa Athletes
Iowa has been among the national leaders in boys' basketball since its first state tournament in 1912. Viewed for years as the IHSAA's "gold standard" event, Iowa high school hoops has produced countless college and professional standouts. The state tournament consists of eight teams from each of the four classifications who advance to Wells Fargo Arena in downtown Des Moines.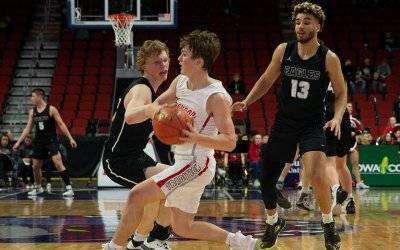 District and substate pairings for the 2021 basketball postseason will be shared here once they...
IOWA HIGH SCHOOL BASKETBALL STATE TOURNAMENT CENTRAL
For all things postseason and tournament, refer to the IHSAA Basketball Tournament Central.
POSTSEASON BRACKETS & SCORES
Now powered by Varsity Bound
REGULAR SEASON WEEKLY SCOREBOARD
2021 State Basketball Tournament Update
Due to restrictions related to COVID-19, consolation games will be suspended for the 2021 IHSAA State Basketball Tournament at Wells Fargo Arena in Des Moines. Games will now have at least two hours between tipoff times throughout the complete schedule, with four championship games contested on Friday, March 12. The updated schedule was a decision made in collaboration with the IHSAA's basketball advisory committee, the Iowa Basketball Coaches Association, and Iowa Events Center. 
View StateWide Basketball Stats at Your Fingertips
IMPORTANT UPCOMING EVENTS
For school-specific events, please contact your school's athletic director or reference your conference's website. Officials may log in to the Iowa High School Athletic Association App.

List of Events
State Tournament Central Tickets: $10 | Buy Tickets Masks required of all attendees at Wells Fargo Arena. IHSSN: Free Livestream | TV Viewing Options Monday, March 8 Class 1A Quarterfinals 10:00—#1 North Linn, Troy Mills vs. #8 South Winneshiek 12:00—#4 Martensdale-St. Marys vs. #5 Easton Valley 2:00—#2 Lake Mills vs. #7 Montezuma 4:00—#3 Grand View Christian vs. #6 St. Mary's, Remsen Class 2A Quarterfinals 6:00—#1 Boyden-Hull vs. #8 South Central Calhoun 8:00—#4 Aplington-Parkersburg vs. #5 Van Meter Tuesday,…
+ Export Events
BASKETBALL Administrator, Fan & Athlete Materials
View More & Order Official Basketball Photos
Recent Basketball HISTORY
View upcoming ihsaa events