Iowa High School Wrestling
Iowa: Wrestling's Home and Heartbeat
At the center of our state's vibrant history, culture, and passion for sports, Iowa reigns as one of the nation's leaders in high school wrestling. Decades of championships and community support back the tradition of producing national and Olympic champions. The high school season of folkstyle wrestling culminates with the consistently sold-out state championships at Wells Fargo Arena in downtown Des Moines.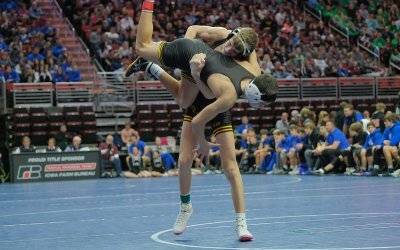 Following approval on Friday morning by the IHSAA's Board of Control, district tournament...
STATE WRESTLING TOURNAMENT CENTRAL
For all things postseason and tournament, refer to the IHSAA Wrestling Tournament Central.
Wrestling Administrator, Fan & Athlete Materials
2023-24 Weight Classes
106, 113, 120, 126, 132, 138, 144, 150, 157, 165, 175, 190, 215, 285
2023-24 Manuals
2023-24 Coach & AD Memos
IWCOA Dual Team Rankings
NFHS Rule Illustrations:

TrackWrestling Information
2024 DISTRICT TOURNAMENTS
Districts: Saturday, Feb. 10
(Click on the school host location to follow the tournament on TrackWrestling)
Buy Tickets: HomeTown Ticketing
Class 3A Districts
Ames
Bettendorf
Carlisle
Dubuque, Hempstead
Fort Dodge
Marshalltown
Norwalk
Prairie, Cedar Rapids
Class 2A Districts
Atlantic
Estherville Lincoln Central
Fairfield
Glenwood
Independence
Osage
Roland Story
Sioux Center
Solon
Webster City
West Delaware
Williamsburg
Class 1A Districts
Denver
Emmetsburg
I-35, Truro
Lake Mills
MFL, MarMac
MVAOCOU
Ogden
Pleasantville
Riverside
South Hamilton
Underwood
Wilton
Important Upcoming Events
For school-specific events, please contact your school's athletic director or reference your conference website.
February 14, 2024
-
February 17, 2024
View StateWide WRESTLING INFO at Your Fingertips
BODY COMPOSITION ASSESSMENTS
View upcoming ihsaa events