Iowa High School Wrestling
Iowa: Wrestling's Home and Heartbeat
At the center of our state's vibrant history, culture, and passion for sports, Iowa reigns as one of the nation's leaders in high school wrestling. Decades of championships and community support back the tradition of producing national and Olympic champions. The high school season of folkstyle wrestling culminates with the consistently sold-out state championships at Wells Fargo Arena in downtown Des Moines.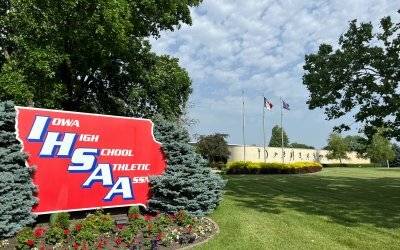 DES MOINES, Iowa – The Iowa High School Athletic Association's Board of Control met Monday and...
STATE WRESTLING TOURNAMENT CENTRAL
For all things postseason and tournament, refer to the IHSAA Wrestling Tournament Central.
Wrestling Administrator, Fan & Athlete Materials
2022-23 Coach & AD Memos

2021-22 Classifications

2021-22 Regular Season Manual

2022 Sectional and District Manual
2022 Regional and State Dual Team Manual
2022 State Individual Tournament Manual
IWCOA Dual Team Rankings
State Tournament Seeding Information
2021-22 Rule Update: Near Fall, Edge of Mat

TrackWrestling Information

Iowa Bankers Association Scholarship
Important Upcoming Events
For school-specific events, please contact your school's athletic director or reference your conference website.
View StateWide WRESTLING INFO at Your Fingertips
BODY COMPOSITION ASSESSMENTS
Approved Body Composition Assessment Personnel

View upcoming ihsaa events