Iowa High School Boys CROSS COUNTRY
Running for Almost 100 Years
The IHSAA initially administered boys cross country state championships in 1930, with the first invitational championships held at the University of Iowa starting in 1922. Kennedy Park in Fort Dodge hosts one of the nation's longest-running co-ed state meets each year.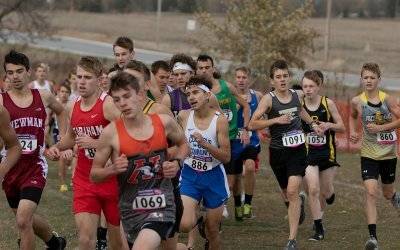 Host sites and team assignments for the 2021 IHSAA and IGHSAU state qualifying meets for all four...
2021 STATE QUALIFYING MEETS
Wednesday, October 20 & Thursday, October 21
Results will be posted as they become available
FIND INFORMATION FOR THE CROSS COUNTRY STATE MEET
Administrator, Fan & Athlete Materials
IMPORTANT UPCOMING EVENTS
For school-specific events, please contact your school's Athletic Director or log in to the Iowa High School Athletic Association App.

No matching events listed under Cross Country. Please try viewing the full calendar for a complete list of events.
C

ross Country Media Gallery
View upcoming ihsaa events