Iowa High School Swimming
Swim With the Best in a Single-Class SPORt
Iowa high school boys have competed for state championships in the pool since 1937. The single-class winter championships put all boys swimmers across the state head-to-head as they compete and set records. The state meet is currently held inside the University of Iowa's top-rated natatorium at the Campus Recreation and Wellness Center.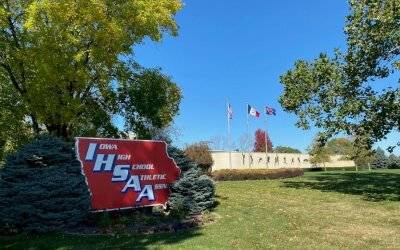 COVID-19 GENERAL GUIDANCE WINTER 2020-21 Updated: February 9, 2021 Original Publish Date: October...
2021 State Swimming Update
Update: Due to restrictions related to COVID-19, the 2021 IHSAA State Swimming Championships will not be held at the University of Iowa's Campus Recreation and Wellness Center.
The meet's substitute site will be Linn-Mar Aquatic Center in Marion. The state meet is currently scheduled for February 13, 2021.
View 2021 State Meet Qualifiers
IOWA HIGH SCHOOL SWIMMING'S STATE MEET CENTRAL
For all things postseason and tournament, refer to Swimming's State Meet Central.
DISTRICT MEETS: FEB. 6, 2021
District results and state qualifying information will be posted when it becomes available.
View the State's Top Swim Times at Your Fingertips
Important Upcoming Events
For school-specific events, please contact your school's athletic director or reference your conference's website. Administrations and officials may log in to the Iowa High School Athletic Association App.

No matching events listed under Swimming. Please try viewing the full calendar for a complete list of events.
Swimming Administrator, Fan & Athlete Materials
Coach & Official Correspondence
View upcoming ihsaa events