Iowa high school boys GOLF
Experience Iowa Golf Courses with Boys High School Golf
First sponsored as a state tournament in 1928, the IHSAA uses golf to encourage participants to compete on Iowa's exceptional public and private courses as teams and individuals. The fall (Class 4A) and spring (3A, 2A, 1A) tournaments are held at selected sites across the state.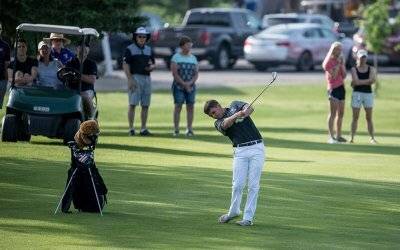 Golf's state meet qualifiers out of the district meets set for Monday, May 15 and Tuesday, May 16...
CHECK OUT FALL & SPRING STATE GOLF INFORMATION
GOLF Administrator, Fan & Athlete Materials
Fall
State Meet: Practice Round Information
Coach & AD Memos
Spring
2023 Golf Sites and Assignments
2023 Spring State Sites (May 22-23)

Class 3A: Veenker Memorial Golf Course
Class 2A: Coldwater Golf Links
Class 1A: Ames Golf & Country Club
Cart use notice – NO PRIVATE CART USE ALLOWED AT ANY OF THE STATE VENUES

2023 CoEd Golf Registration Entry Form (due to Ben by May 30)
Coach and AD Memos
IMPORTANT UPCOMING EVENTS
For school-specific events, please view your school or conference website or contact your school's athletic director.
View IHSAA GOLF Scores & Stats 
Statewide schedules, scores, statistics, and more at Quik Stats Iowa.
Managed by Bound.
View upcoming ihsaa events