Iowa High School Boys Bowling
After 40 years of management from the Iowa Bowling Proprietors Association, the IHSAA and IGHSAU added bowling to their sanctioned sports lists in 2009. Since then, it has consistently grown in participation and popularity across the state. The co-ed state tournament features three classes of bowling over three days and is currently held at Cadillac Lanes in Waterloo.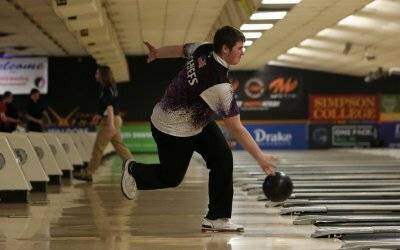 Following this week's state qualifying meets, an unofficial list of qualifying teams and...
IOWA HIGH SCHOOL BOWLING STATE MEET CENTRAL
For all things postseason and state meet, refer to the IHSAA Bowling State Meet Central.
2021 State Bowling Update
Due to restrictions related to COVID-19, the 2021 Iowa High School Co-Ed Bowling Championships will now be spread out into class-specific sessions at Cadillac XBC in Waterloo. Boys' events will take place on Tuesday, February 23 (Class 3A, PM) and Wednesday, February 24 (Class 2A, AM followed by Class 1A, PM). For more information on girls' events, visit the IGHSAU website. 
View Statewide Bowling Stats at Your Fingertips
Important Upcoming Events
For school-specific events, please contact your school's athletic director or reference your conference's website. Officials may log in to the Iowa High School Athletic Association App.

No matching events listed under Bowling. Please try viewing the full calendar for a complete list of events.
Bowling Administrator, Fan & Athlete Materials
View More & Order Official Bowling Photos
View upcoming ihsaa events