Iowa High SchooL BOYS Tennis
Taking the best tennis talent all across the state
The IHSAA has offered a highly competitive state singles and doubles tournament since 1929. In 1983, team championships were also added to the state tournament level, as well as a co-ed competition. These two-class events are held at selected sites across the state each year.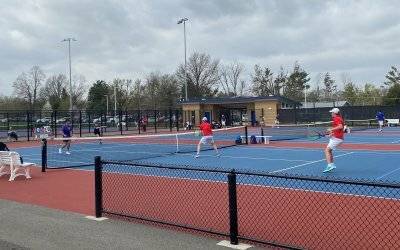 Below are results from the IHSAA's 2022 district singles and doubles tournaments in Class 2A and...
IOWA HIGH SCHOOL STATE TENNIS CENTRAL
For all things postseason and tournament, refer to the IHSAA State Tennis Central.
2022 TEAM SUBSTATES & QUARTERFINALS
Wednesday, May 18 at 8:30 a.m., unless noted
Class 2A
At Ames
Ames vs. Marshalltown
Dowling Catholic, W.D.M. vs. Waukee Northwest
At Cedar Rapids, Washington
Mason City vs. Iowa City, West
Cedar Rapids, Washington vs. Cedar Rapids, Jefferson
At Muscatine
North Scott, Eldridge vs. Linn-Mar, Marion
Ottumwa vs. Pleasant Valley
At Valley, West Des Moines
Johnston vs. Ankeny Centennial
Waukee vs. Valley, West Des Moines
At Kuemper Catholic, Carroll
Estherville Lincoln Central vs. Denison-Schleswig
Kuemper Catholic, Carroll vs. Spencer
At Pella Christian
Pella Christian vs. Ballard
Shenandoah vs. Pella
At South Tama County
Maharishi, Fairfield vs. Boone
Grinnell vs. Xavier, Cedar Rapids
At Waverly-Shell Rock
Marion vs. Decorah
Waverly-Shell Rock vs. Wahlert Catholic, Dubuque
Tennis Administrator, Fan & Athlete Materials
2022 Postseason Entry Forms
Coach & AD Memos
Important Upcoming Events
For school-specific events, please contact your school's athletic director or reference your school or conference website. Administrators and officials may log in to the Iowa High School Athletic Association App.

List of Events
Date: Wednesday, May 18 Times: 8:30 a.m. coaches meeting, play to follow Entry: Free 2022 POSTSEASON SITES & ASSIGNMENTS
+ Export Events
View IHSAA TENNIS Scores & Stats 
Statewide schedules, scores, statistics, and more at Quik Stats Iowa.
Managed by Bound.
View upcoming ihsaa events