Information for IHSAA Media Members
Provided for newspaper, television, radio, online and other media outlets, as well as member schools and interested parties.
View publicly available guidelines, procedures, and information for Iowa boys' high school sporting events.
General IHSAA Information
The IHSAA welcomes media members to high school boys' sporting events throughout the year. We appreciate the tremendous resource journalism and event coverage provide to our member schools, communities, and student-athletes.
IHSAA policies, procedures, and recommendations for media members can be found in the digital Media Policy Manual. 
Sport Statistics: Quik Stats Iowa | TrackWrestling
Archives: IHSAA Records & Awards
Media requests, data requests, and inquiries to the IHSAA should be submitted to: Chris Cuellar, communications director,

[email protected]

.
Video Access & Livestreaming
Regular season video or livestreaming is at the discretion of the host school or site.
Media outlets and interested schools or individuals may apply to the IHSAA regarding video at postseason lead-up events, following procedures required for access.
The Iowa High School Sports Network and NFHS Network maintain exclusive rights for select IHSAA state tournament and postseason events.
Postseason Video Access
Iowa High School Sports Network
NFHS Network
The IHSAA does not currently maintain video archives from any sport or state tournament event.
The Iowa High School Sports Network is neither owned nor operated by the IHSAA.
2023 Spring Credential Registrations
Applications will open once the winter postseason begins.
Applications do NOT guarantee access and approval.
IHSAA policies, procedures, and recommendations for media members can be found in the digital Media Policy Manual. 
Professional Media
School Media Representatives
State Championship Guidelines
The IHSAA does NOT credential freelance individuals or social media-exclusive outlets.
IHSAA MEDIA AWARD
From 1970 through 2019, the IHSAA has presented an annual award to media members to honor their coverage and commitment to Iowa high school activities.
IHSAA Credentials
The IHSAA issues annual credentials for state tournament events, in partnership with IGHSAU. 
State Tournaments
The IHSAA issues credentials to bona fide media outlets for entry and access to state tournament events. Credentials must be visible when attending state tournament events. The sale or unauthorized transfer of credentials is strictly prohibited. These credentials are not required to cover IHSAA regular season or postseason lead-up events, but may be displayed.
About Credentialing
Credentials and/or access will be granted to approved media outlets across various platforms including, but not limited to: daily newspapers, weekly newspapers, other print or web-based publications, and television stations.
i. The IHSAA will only credential bona fide media outlets whose organizations display the following criteria prior to a state tournament event: 1. Legitimate and consistent news-gathering; 2. Editorial oversight; 3. Original content production; 4. A record of coverage; 5. The demonstration of service toward community interest.
ii. The IHSAA and IGHSAU reserve the right to set policies and regulate the number of credentials issued to approved media outlets at their respective state tournament events.
iii. Independent or commercial photographers will NOT be credentialed for IHSAA state tournament events. Photographers and videographers must be affiliated with approved media outlets and news-gathering organizations to receive access.
iv. Social media-based services, scouting, or recruiting services, college coaches, private club organizations, etc., will NOT receive media credentials for IHSAA state tournament events.
Radio Credentialing
Radio stations will not receive the annual passes as they will be credentialed by the IHSSN for select key events (see Media Policy Manual). For all other IHSAA and all IGHSAU state tournament events, radio outlets should apply through each organization's pre-tournament registration. IHSSN credentialing information is available HERE. 
Requesting Credentials
Outlets interested in attending state tournament events in football (fall), wrestling (winter), basketball (winter), track and field (spring), soccer (spring), or baseball (summer) should complete Media Credential Request forms. The forms may not open until the beginning of the postseason or until event qualifiers are announced. Those forms will appear on this Media page and also through the State Tournament Central pages. Sport-specific media policies may also be available on those pages.
IHSAA Style & Use
Toolbox items and guides for IHSAA coverage.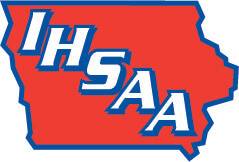 Download IHSAA Logos
All files above in JPG format. Once opened, they may require right-click and "Save As…" for download.
For other file formats, please email communications director Chris Cuellar, [email protected].
Reference Guide
Classifications: Sport classifications are arranged through school enrollment numbers in descending order. The number of classifications vary by sport, as schools with larger enrollments feature in higher numbered classes (ex. 4A, 3A) and smaller enrollments in lower (2A, 1A, A). The IHSAA does not use hyphens in classification titles, with the exception of "Eight-Player" in football.
Schools: The IHSAA uses school names as listed through their districts by the Iowa Department of Education. These may be abbreviated or shortened in certain IHSAA uses.
Status: The IHSAA is a 501(c)(3) nonprofit organization that offers free membership to all high schools in Iowa that are recognized by the Department of Education. It operates without the use of tax monies and is not a department of the Iowa state government.
Titles: Official references should include the organization's title (Iowa High School Athletic Association), acronym (IHSAA), or colloquial identification (Athletic Association). Other references (e.g. the state, IAHSAA, boys' association, etc.) are considered unofficial and inaccurate.
Logos
The IHSAA outline logo is a trademarked and copyrighted image. It may be downloaded here for appropriate media use.
Official IHSAA colors are Reflex Blue and Red 032 C.
Reflex Blue: CMYK 100, 72, 0, 0; RGB 51, 51, 132; HEX 333399.
Red 032 C: CMYK 0, 90, 76, 0; RGB 239, 51, 64; HEX EF3340.
JOIN THE IHSAA MEDIA MAILING LIST
Add your email below to be added the IHSAA's media list for select press releases, state tournament credential information, and other important updates. Joining this list does not register you or your outlet for state tournament credentials or other approved media activities.
TRYING TO FIND A CONTACT?