CEDAR FALLS, Iowa – The Iowa High School Athletic Association is proud to honor and induct two classes of the Football Hall of Fame at the UNI-Dome during two 2021 championship games on Friday, Nov. 19.
The 2020 class was announced last November, but ceremonies were canceled when COVID-19 protocols were updated for spectators and games the week of the championships. Those five selections will be introduced at halftime of the Class 3A championship game, set for a 1 p.m. kickoff.
The 2021 class, as listed below, will be inducted at halftime of the Class 5A championship game, set for a 7 p.m. kickoff. In the 50th year of playoff football at the IHSAA, the 2021 selections span from the pre-playoff era into the 2000s.
The IHSAA began honoring the on and off-field accomplishments of Iowa's greatest high school football players back in 1980. Players are nominated by member schools, then presented to a committee made up of Hall of Fame coaches, then taken to the IHSAA's Board of Control.
Below is brief biographical information on each Hall of Fame selection, with the 2021 class followed by the 2020 class. More information on the selections will be available in the annual championship program, available for $5 at the UNI-Dome or through the IHSAA office.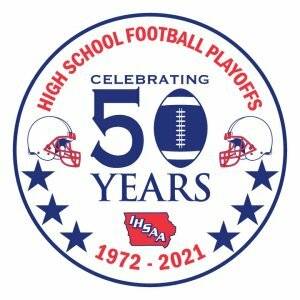 CLASS OF 2021
BILL ALBRIGHT, Madrid — A two-time all-state running back and linebacker for coach Randy Hinkel's powerhouse squads of the early 1990s, Albright led the Tigers to runner-up finishes in 1993 and 1995. The 78 touchdowns and 496 points racked up in his career both ranked fourth in state history upon the completion of his senior season. Albright also graduated with 4,331 career rushing yards.
LEVI FERGUSON, North Mahaska — A record-breaking running back who led North Mahaska to its lone football championship in 2005 and still holds four state records and the mark for most carries in a Class A title game. Ferguson rushed for 7,142 yards from 2002 through 2005, setting records that still stand with most touchdowns in a season (64) and in a career (129), and most points in a season (416) and in a career (847). A native of Searsboro, he went on to play college baseball at Northern Iowa and Indiana State.
ROBERT GALLERY, East Buchanan — Three playoff berths and an all-state selection out of performances at tight end and linebacker highlighted his varsity days with the Buccaneers and laid the groundwork for a historic career for the Masonville native. Gallery arrived at the University of Iowa as a tight end, then moved out to offensive tackle and became an All-American, the Outland Award winner, and ultimately the No. 2 overall pick in the 2004 NFL Draft. Gallery played with the Raiders, Seahawks, and Patriots until his retirement in 2012.
TERRY LAMBERT, Perry — A multi-sport standout for the Bluejays and then the University of Dubuque, Lambert shined at running back and defensive back from 1979 through 1982. As a sophomore in 1980, Lambert led Perry to an unbeaten regular season and the program's only playoff qualification in the first 30 years of the IHSAA's postseason system. As a senior, he rushed for 436 yards in one game, good for second-most in state history at the time.
DAN McCARNEY, Iowa City, City High — Known best for his coaching accomplishments, McCarney was a first-team all-state lineman and multi-sport star for the Little Hawks through his graduation in 1971. City High improved with McCarney's on-field leadership, going 0-9 in Mississippi Valley Conference in 1968, then going 8-1 and winning the conference in 1970. He became a three-year starter on the offensive line at the University of Iowa under coach Bob Commings before spending 11 years coaching for Hayden Fry and becoming the longest-tenured and winningest coach in Iowa State football history.
BRET MEYER, Atlantic — The quarterback and star of the 2002 undefeated state champions in Class 3A, Meyer graduated from Atlantic with over 4,000 yards passing and 1,000 yards rushing in his career. An all-conference athlete in four sports, he was a two-time all-state player and all-class MVP as a senior. Meyer went on to set Iowa State University records for most passing completions, attempts, and yards in a career, and most total yards and offensive plays in a career.
CLASS OF 2020
RYAN HANNAM, Saint Ansgar — A four-year starter, he was the program's career receiving leader and its first 1,000-yard rusher in a season. A four-sport athlete who graduated in 1998, he then became a four-year letterwinner at tight end for the University of Northern Iowa. A fifth-round NFL draft pick, he played five seasons, including a Super Bowl XL appearance with catches for the Seattle Seahawks.
MIKE KLINKENBORG, Central Lyon — Rugged three-year starter who played every snap and led his team to three playoff appearances. Elite all-state as a senior, finished career with 417 tackles. Earned four varsity letters, then started two years with Iowa Hawkeyes. A team defensive MVP as a junior, he was team captain and second-team All-Big Ten as a senior.
JEFF KOEPPEL, Urbandale — A three-year starter and two-time all-state player on the offensive and defensive lines for the J-Hawks. Inaugural Gatorade Player of the Year for football in Iowa, also the Des Moines Register male athlete of the year in 1986. Became four-year letterwinner at the University of Iowa, starting every game of his junior and senior years, named team captain in 1989. Two-time state heavyweight wrestling champion.
DARIN NAATJES, West Lyon, Inwood — Four-year starter for powerhouse program, earning runner-up honors in 1995 and leading the Class 2A champs in 1998. The Alvord native was a multi-sport all-state athlete for the Wildcats, including baseball, basketball, and three track & field titles in the long jump and 4×100 twice. Played football and baseball at Stanford University, with Rose Bowl and two College World Series appearances. Drafted by the Philadelphia Phillies and played four years in minor leagues.
KEVIN SANGER, Britt — Four-year letterwinner and playoff qualifier for his father Bob's squad, including runner-up finishes in 1986 and 1987. The oldest of four football starring brothers graduated in 1989, earning first team all-state honors in his junior and senior seasons. An all-conference defensive back in 1987, he led Britt to the semifinals as a linebacker in 1988 and later had an all-conference career at Central College.