New NFHS Officers, Board Members Elected for 2023-24
NEWS RELEASE BY NFHS – Contact: Bruce Howard
INDIANAPOLIS, IN (July 14, 2023) – Tom Keating, executive director of the Iowa High School Athletic Association (IHSAA), is the new president of the National Federation of State High School Associations (NFHS) for 2023-24. Keating, the 64th president of the NFHS, began his one-year term July 2 following the NFHS Summer Meeting, which was held this year in Seattle, Washington.   
Bob Lombardi, executive director of the Pennsylvania Interscholastic Athletic Association (PIAA), was elected by the NFHS Board of Directors to the position of president-elect for the upcoming year.     
The following individuals were approved by the NFHS National Council for four-year terms on the NFHS Board of Directors: Jeff Collins, executive director, New Hampshire Interscholastic Athletic Association (NHIAA), Section 1; Lance Taylor, executive director, Arkansas Activities Association (AAA), Section 6; and Michael Sye, director of athletics, Baltimore (Maryland) County Public Schools System, at large, Sections 2 and 6.    
 Tom Keating joined the IHSAA staff as executive director July 1, 2019, after 15 years at Xavier High School in Cedar Rapids, Iowa. He was president of Xavier High during the 2018-19 school year after 14 years as the school's principal. He served 24 years at Wahlert Catholic High School in Dubuque, Iowa, prior to arriving at Xavier in 2004. 
A native of Philadelphia, Pennsylvania, Keating began his career as a teacher and coach at Maxwell High School in 1977 before starting an award-winning run as a teacher, coach and activities director at Wahlert in 1980. Keating led Wahlert to 11 state volleyball championships, and he was named NFHS National Coach of the Year for volleyball in 2003.
Keating served on the IHSAA's Board of Control from 2008 to 2018 and was chairperson in 2014-15. In 2010, he was named the National Catholic Educational Association's Educator of the Year. He was a 2003 inductee in the National High School Athletic Coaches Association's Hall of Fame, and he has been an adjunct instructor and authored five graduate-level courses for Drake University. 
Nationally, Keating joined the NFHS Board of Directors as the Section 4 representative at the start of the 2020-21 school year.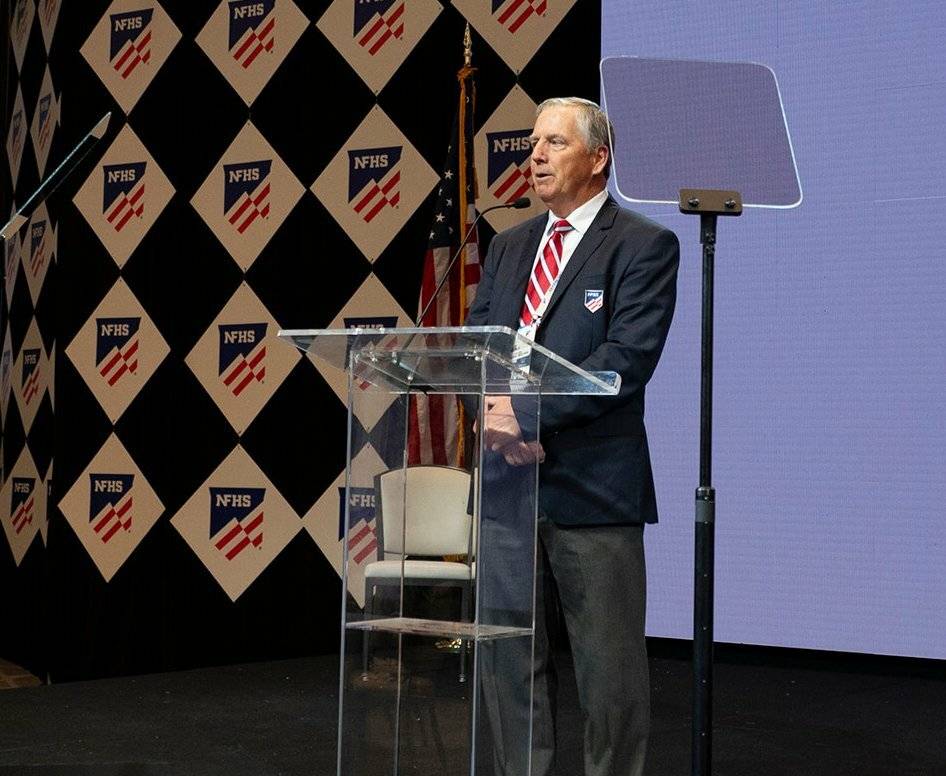 IHSAA executive director Tom Keating speaking at the 2023 NFHS Summer Meeting as new president of the NFHS board. Photo courtesy of NFHS.
About the National Federation of State High School Associations (NFHS)
The NFHS, based in Indianapolis, Indiana, is the national leadership organization for high school sports and performing arts activities. Since 1920, the NFHS has led the development of education-based interscholastic sports and performing arts activities that help students succeed in their lives. The NFHS sets direction for the future by building awareness and support, improving the participation experience, establishing consistent standards and rules for competition, and helping those who oversee high school sports and activities. The NFHS writes playing rules for 17 sports for boys and girls at the high school level. Through its 50 member state associations and the District of Columbia, the NFHS reaches more than 19,500 high schools and 12 million participants in high school activity programs, including more than 7.6 million in high school sports. As the recognized national authority on interscholastic activity programs, the NFHS conducts national meetings; sanctions interstate events; offers online publications and services for high school coaches and officials; sponsors professional organizations for high school coaches, officials, speech and debate coaches, and music adjudicators; serves as the national source for interscholastic coach training; and serves as a national information resource of interscholastic athletics and activities. For more information, visit the NFHS website at www.nfhs.org.
About the Iowa High School Athletic Association (IHSAA) 
The Iowa High School Athletic Association is a 501(c)(3) nonprofit organization that offers free membership to all high schools in Iowa that are recognized by the Department of Education. The IHSAA works to coordinate, develop, direct, oversee, and promote boys' high school and junior high sports and activities across the state of Iowa.