CEDAR FALLS, Iowa – At Thursday night's Class 3A football state championship game, the IHSAA will present annual award winners and Iowa Football Coaches Association honorees at halftime.
The IHSAA began its award program for Sports Media members in 1970 and Sports Medicine in 1976. Nominations for these come from member schools on behalf of individuals who consistently display dedication, service, and passion for Iowa high school activities in their communities. The Officials' Hall of Fame began in 1977 and recognizes the achievements and service of game officials, referees, and umpires from across the state.
Below is brief biographical information on each award winner. More information on the awards is available in the annual championship program, available for $5 at the UNI-Dome or through the IHSAA office.
OFFICIALS HALL OF FAME
Garth Workman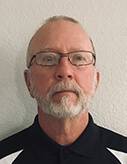 Workman is a lifelong Burlington resident, graduating from the high school in 1971 and picking up officiating shortly after. An honors student who participated in basketball and track, he started his 38-year run as a basketball official  in 1979 when Hall of Fame inductee Don Proctor encouraged him to get involved with the avocation. Proctor and fellow Hall of Fame official Carroll Oberman took Workman into their crew, letting him gain experience with junior varsity games and halves of their varsity contests. Those lessons helped get Workman into other sports as well, including football, softball, and volleyball. Workman officiated football for 31 years, earning playoff appearances 27 times, including eight semifinal and eight championship trips. In 17 years of softball with the Iowa Girls High School Athletic Union, he umpired five state tournaments and one title game, and he worked nine years of volleyball as well. Most of Workman's regular season work came in the Southeast 7, Southeast Iowa, Mississippi Valley, and Mississippi Athletic conferences. Workman and his wife Renetta are the parents of four adult children: Kellie Mason, Zachary Robertson, Laura Breckmeier, and Trent Robertson.
SPORTS MEDIA AWARD
Scott Byers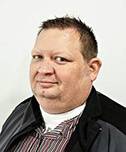 A native of southwest Iowa, Byers has now made his career as an award-winning journalist in northwest Iowa for more than 20 years. A Nishna Valley graduate from Henderson, he played football, basketball, and baseball before attending and finding a love for news at Morningside College. Byers was sports director for the campus radio station, called games for the campus TV station, and interned at KCAU as a student. He joined the newspaper business in Nebraska after his 1992 graduation, then came back to Iowa in 1998 to work with Iowa Information, the publisher of several northwest Iowa papers, including The N'West Iowa REVIEW. Byers serves as sports editor and has been the recipient of multiple National Newspaper Association and Iowa Newspaper Association awards. Byers has twice won the Iowa High School Baseball Coaches Association's media award. He lives in Sheldon with his wife Connie and stepson Treven Carlson.
Ryan Stonebraker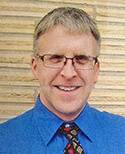 After growing up in Brooklyn and participating in basketball, football, band, and speech at BGM, it's fitting for Stonebraker to be constantly covering a variety of school activities for another tight-knit community in Tipton. Stonebraker graduated from BGM in 1994 and earned a degree from William Penn in 1999, taking up freelance reporting for the Oskaloosa Herald and Ottumwa Courier after college. He then became sports editor of the Pella Chronicle and Knoxville Journal-Express in 2003, covering area schools until moving to Tipton in 2005. In his 15th year at the Tipton Conservative covering Tipton, North Cedar, Wilton, and Durant, he remains a one-man show, writing stories, shooting photos, laying out pages, and trying to promote the newspaper and his work across a variety of modern platforms. Stonebraker hosts podcasts with local coaches and serves as the livestream voice of Tipton volleyball, basketball, baseball, and softball. He and his wife Melinda have been married for 20 years and have two daughters: Zoe, a junior at Tipton, and Lea, a sixth grader.
Jon Swisher

A native of Anamosa and lifelong sports lover, Swisher has helped cover high school athletics since he was still in school. The son of Tom and Erma played baseball, but found a niche as a public address announcer and student manager. Swisher also interned at KMAQ in Maquoketa with the late Leighton Hepker, WMT in Cedar Rapids with Mike Grimm, and the Anamosa Journal-Eureka with Daryl Schepanski, all while still in school. After graduating in 2001, he attending Kirkwood Community College, but never stopped working as he counts 22 years of experience as a public address voice for various sports at Anamosa, Maquoketa Valley, Monticello, North Linn, and West Delaware. Swisher began his full-time radio career in 2003 at WMT and has been sports director at KMCH in Manchester since 2009. In that time, he has assisted with play-by-play roles with University of Iowa softball, Mount Mercy sports, and the Cedar Rapids Titans of the Indoor Football League. He has also assisted with Learfield/IMG's Iowa Hawkeye football broadcasts for the last 10 seasons.
SPORTS MEDICINE AWARD
David Moore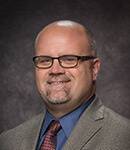 An accomplished and long-serving physical therapist and trainer, Moore is originally from Oelwein and was a graduate of the high school in 1985. The son of Dave and Garland wrestled, ran, and participated in fine arts at Oelwein before attending and running for Iowa Wesleyan. Moore then advanced to the University of Iowa's school of physical therapy, graduating with a master's in 1992. He began his career in Independence and has been at Ellsworth Municipal Hospital and Hansen Family Hospital, both in Iowa Falls, since 2005. Moore has stayed close to sports throughout that run, starting as a volunteer assistant trainer at North Fayette in 1989, then volunteering as trainer and assistant wrestling coach at Independence from 1993 to 2005. He has been with Iowa Falls-Alden since 2006 and has overseen IMPACT baseline concussion testing there for the last four years. Moore estimates that in 25 years as a trainer he has performed more than 2,500 body fat tests for area athletes and has only missed two Friday night football games. Moore and his wife Shelly have two sons – David (Jordan) and Killian – and he serves on the Iowa Falls school board.
Dr. Dustin Smith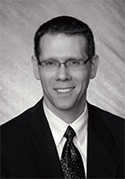 Closing in on 20 years of service on the sidelines at Eagle Grove, Smith has been a steady presence for schools, sports, and his area communities. A native of tiny Lorimor, Smith participated in track, band, choir, and drama at East Union, where he graduated from in 1989. He attended and received an economics degree at Grinnell College before going to medical school at the University of Iowa. Once Smith finished his residency in 2000, he moved to Eagle Grove and has been a family medicine physician for Unity Point Clinic ever since. He has volunteered his services for football since moving to town and assists other Eagle Grove sports whenever necessary. Smith and his wife have one son, Ryan.
See past award winners at